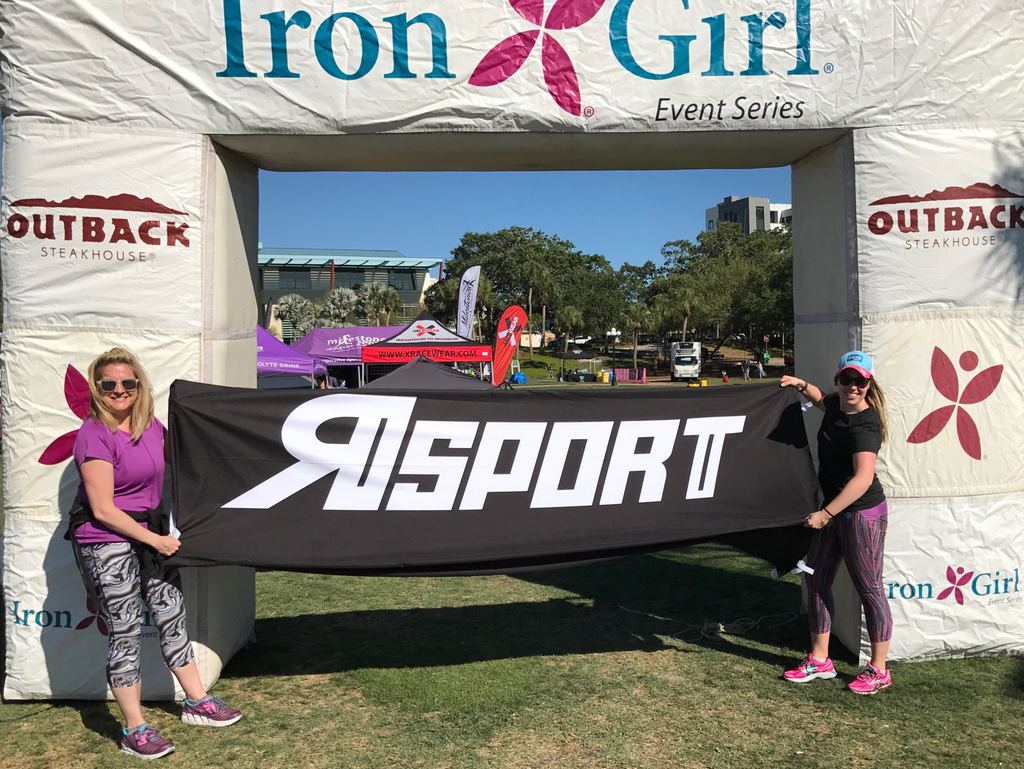 Rsport at Irongirl, Clearwater, Florida
We could not have asked for a better weekend to spend in Clearwater at the Irongirl Half Marathon and 5K. With no clouds in the sky, a cool breeze, and the RSport and Irongirl flags flying high, we kicked off the expo on Saturday morning.  With the weather picture perfect, you'd think that would be hard to beat, but the highlight of our weekend was meeting all the Athena's that stopped by the booth.  We were inspired by all the wonderful women that shared their stories with us.
Here is a snippet of our favorite encounters:
We met a four time marathon finisher who for the first time at an event could find her size in a shirt, 4X. She bought a magenta tank top and was truly thrilled. She was sure to mention that it was very encouraging to see a new brand (Rsport) fulfill a need in the market.
Another favorite was Sam and her mom, Marcia. The moment Sam walked out of the changing tent, we all exclaimed "OMG. You look amazing!" (See our post on Instagram!) She was truly glowing and rocked the Broken Angels PDQ Multi - Sport Capris to the event the next day.  We ended up talking to her and her mom for probably an hour throughout the weekend learning their story and connecting with Marcia's inspirational story about beating her breast cancer. Seriously inspiring women.
Watching CJ's mom, Ann Richardson sell Rsport gear and mingle with Athenas. Ann was so proud of CJ (Rsport's CEO/Founder) and the brand.  She brought a new angle to the booth.  While she talked to everyone, she really held her own with women coming off of injuries that were interested in Rsport. 
CJ had particularly bonded with another CJ who had stopped by the booth. They both only realized they had the same moniker once she returned from praying about whether to buy 2 items or just one. She is a teacher trying to actively reduce her debt, but also knows quality when she sees it.  She ended up buying 2 products: the capris and a short sleeve top!
The pre-race jitters. Being some of the first people to the event site on Sunday morning, it was amazing to use our lights to spotlight the clothing. It was still pitch black outside given how early it was.  Runners would stop by looking at the fleece freezing, ask for headphones, look for compression socks, but most importantly we really felt part of the race community that morning.  We experienced excitement as if we were running too as the first runners took off from the starting line. The icing on the cake was being able to congratulate them after a successful completion of the race.
We were reminded, pleasantly, that runners and athletes are inherently happy people with all the endorphins going around. Athenas shared they were so excited someone thought of all these special details in the products built just for them. They knew we understood what they experience.
The other vendors and race directors were all so welcoming and willing to share from their own experiences to help us grow faster by meeting more Athena Athletes. Sandra with BB sunglasses lent us a pair of purple sport run sunglasses to merchandise with our display top and she also suggested questions to ask of future race events to ensure they were worth our time and energy.  Sandra and one customer even suggested listing our size range publicly so people knew what we were focused on.  
Lastly, we will never forget riding to the airport 3 high in the front of the very packed Volvo with numb legs from both the weird angle they were positioned in and CJ's mom, Ann sitting on them. See behind the scenes video below. Priceless.
---
1 comment